| | |
| --- | --- |
| | |
Doug Deuchler has been reviewing local theater and delving into our history for Wednesday Journal for decades. He is alsoa retired teacher and school librarian who is also a stand-up comic, tour guide/docent and author of several books about Oak Park and surrounding communities. Here's your chance to tap into Doug's knowledge of local theater, film and history.
Latest News Articles
Friendships are fascinating, especially those of long standing. Carroll Gardens, the world premiere comedy by A. Zell Williams at 16th Street Theater, focuses intensely on a decades-long relationship between two 30-year-old guys who became best friends when they were 10.
Shakespeare's boisterously bold early comedy, The Taming of the Shrew, about a lively woman's subjugation, is one of the Bard's most controversial plays. Sadistic misogyny or hilarious romantic rough-house? A fortune-hunting scoundrel tormenting an aggressive young woman until she becomes his compliant trophy wife?
I felt totally unprepared to see Surging Films & Theatrics' new production of the Broadway musical Big Fish at Madison Street Theater. I had never seen the visually flamboyant Tim Burton 2003 movie, nor had I read the 1998 novel of magical realism by Daniel Webster upon which it was based. At the very least I would not end up tuning in to the Republican convention and Trump's acceptance speech.
When I arrived at the high school, I was promptly escorted to the student rehearsal already in progress. Sixty-some students were on stage running through a very lively dance number from OPRF's "summer musical," Legally Blonde. The show opens this Friday night.
Latest Blogs
The award-winning tour in which costumed interpreters portray assorted "residents" of the 140-year-old Forest Home Cemetery in Forest Park at their grave sites has been a very popular event for two decades.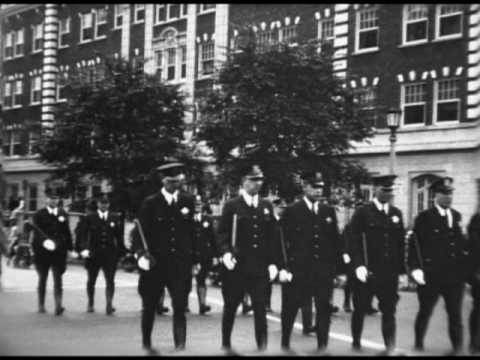 I was trolling You Tube and discovered an exciting 9-minute 16 mm film. It's apparently part of someone's home movies from the early 1930s. Check it out


Philander Barclay's story is fraught with failure and drug addiction, and it doesn't end pretty.