| | |
| --- | --- |
| | |
Latest Dining Blogs
There are some foods that have a truly unique flavor, such as truffles, chitterlings and durian. If you like these distinctive flavors, you have to eat these foods. I like earthy truffles, still working on enjoying the fecal tang of chitterlings, and durian…yes, in a smoothie, I like the dialed down though still fetid stand of the durian just fine, though I doubt a smoothie of chitterlings would be quite so inviting.
If you've seen the movie "Big Night," in which two Italian brothers attempt to save their dying restaurant by having singer Louis Prima to dinner, you know about timpano, an Italian culinary creation that in the movie got a dining room response only slightly less beatifically orgasmic than the ecstasy of St. Theresa.
Perhaps less known than even the Italian beef sandwich is gravy bread, simply a hunk of the white Italian bread used in the beef sandwich, drenched in the sauce, and which may contain a few shreds of the beef that once simmered in the gravy. Gravy bread is not unique to Chicagoland, but using Italian bread and Italian beef gravy seems to be the predictable by-product of serving Italian beef sandwiches.
Sotol grows in Texas and points further south, like the Mexican states of Chihuahua and Durango, and it can be distilled as a spirt or used as a construction material.
Traveling through Oaxaca, I shot photos of mezcaleros: agaveros who tend the plants, palenqueros who roast, smash and ferment the pina, and the maestro, the master of this time-honored ceremony of taking a plant that flourishes in a hostile environment and then transmuting it into a spirit that reflects the land from which it came and the people who brought it forth. Here are some of the people who are making it possible for all of us to taste Mexico, the soon-to-be-walled-off republic that continues to fascinate with foods and spirits that make us very happy to be eating and drinking and alive.
Sometimes you find a food that's so enthralling, so intoxicating that you know you could keep eating it for a very long time, health consequences be damned. For me, such dishes are usually pork-based.
When most Spanish folks – Europeans not Mexicans or South Americans – hear "tortilla," they think of a kind of omelet that contains just three ingredients: potato, onion, and egg. The word "tortilla" means, literally, little cake, and the Spanish tortilla, when made correctly, is like a little cake. We eat a lot of eggs, but we've never made a Spanish tortilla, so I gave it a shot.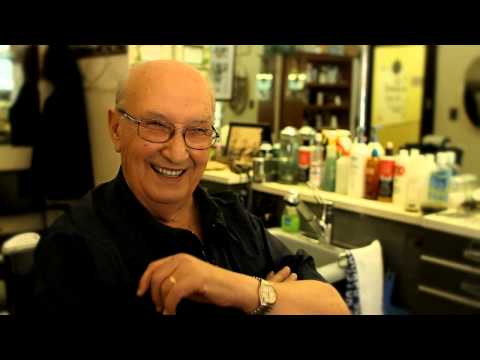 Emil Messina, my barber of many years, told me in the accompanying video that he'd work until "the day comes." Today, I found out, that day came. Some family health emergency, I was told, and then he retired. That's all anyone at the Oak Park Arms could tell me when I called for an appointment this morning. The front desk said a new barber would be taking over this coming Sunday.
Novo is a small and comfortable-looking restaurant on Lake near Oak Park Avenue. It's been open a little over a year, This place has long attracted us. Intimate looking, somewhat dark and relaxed, it's inviting. We finally had a chance to drop in.
There's no such thing as a free lunch, the saying goes, but for the month of March restaurant lunches throughout downtown Oak Park are coming pretty darned close.