| | |
| --- | --- |
| | |
Twitter: DineOakPark
David Hammond, a corporate communications consultant and food journalist living in Oak Park, Illinois, is a founder and moderator of LTHForum.com, the 8,500 member Chicago-based culinary chat site. David is a regular contributor of restaurant reviews and food-related articles for Chicago Tribune, Chicago Sun-Times, TimeOut Chicago, Local Beet, and Chicago Reader, which published his seven-part guide to regional Mexican food in the city. He has also contributed food writing to blogs such as the Local Beet and Grubstreet Chicago. With his friend Michael Gebert (creator of Sky Full of Bacon video podcasts), he hosted a cable documentary on Hispanic chow at Chicago's Maxwell Street Market,and has just completed working on a video about Taste of Melrose Park. A returning guest on WLS and WGN AM radio, David produces the "Soundbites" series on the James Beard-nominated Eight Forty-Eight (Chicago Public Radio, WBEZ, 91.5FM); these radio pieces examine how Chicago chefs use sound in their kitchens; listen here: http://tiny.cc/QpCTA. David was featured on "Good Morning, America," "Chicago, Tonight," and Nippon TV when he developed recipes for preparing seasonal cicadas, which invaded Chicagoland during the spring of 2007. More information, including writing samples and bug-cooking videos, can be found at www.dchammond.com.
Latest News Articles
Hamburger Mary's, the drag show lounge next door to Oak Park Brewing Company, 155 S. Oak Park Ave., opened last Friday night, bringing a sassy edge to Oak Park Avenue after dark.
Editor's note: If it's good enough for Day of the Dead, it might be perfect for New Year's Eve:
Analogous to Halloween in the northern part of North America, Day of the Dead in the southern part of North America, specifically Mexico, is a celebration of life as well as a remembrance of the dead.
When I was a teenager, friends of mine in SDS went to Cuba to help harvest sugar cane — Venceremos!
Carnivore opened late last summer, and we've been there a few times to pick up meat and fish. The boys at Carnivore now also offer lunch. Stopping in for a sandwich is a good way to sample their hand-crafted wurst.
Latest Blogs
Traveling through Oaxaca, I shot photos of mezcaleros: agaveros who tend the plants, palenqueros who roast, smash and ferment the pina, and the maestro, the master of this time-honored ceremony of taking a plant that flourishes in a hostile environment and then transmuting it into a spirit that reflects the land from which it came and the people who brought it forth. Here are some of the people who are making it possible for all of us to taste Mexico, the soon-to-be-walled-off republic that continues to fascinate with foods and spirits that make us very happy to be eating and drinking and alive.
Sometimes you find a food that's so enthralling, so intoxicating that you know you could keep eating it for a very long time, health consequences be damned. For me, such dishes are usually pork-based.
When most Spanish folks – Europeans not Mexicans or South Americans – hear "tortilla," they think of a kind of omelet that contains just three ingredients: potato, onion, and egg. The word "tortilla" means, literally, little cake, and the Spanish tortilla, when made correctly, is like a little cake. We eat a lot of eggs, but we've never made a Spanish tortilla, so I gave it a shot.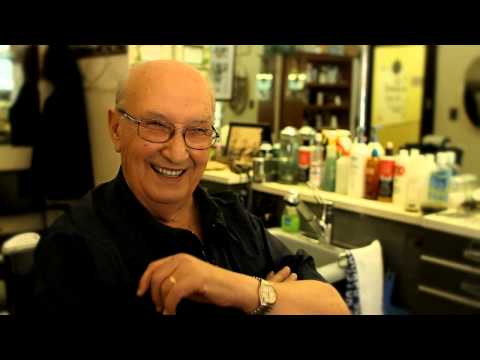 Emil Messina, my barber of many years, told me in the accompanying video that he'd work until "the day comes." Today, I found out, that day came. Some family health emergency, I was told, and then he retired. That's all anyone at the Oak Park Arms could tell me when I called for an appointment this morning. The front desk said a new barber would be taking over this coming Sunday.