Oak Park Festival Theatre
A professional theatre company dedicated to excellence in staging productions -- from Shakespeare and other celebrated classics to challenging contemporary works.
Details
Oak Park Festival Theatre
Austin Gardens
Oak Park IL, 60301
Phone: 708-445-4440
Website:
OakParkFestival.com
Established: 1975
Handicapped Accessible: Yes
Related News Articles
Oak Park Festival Theatre's absorbing new outdoor production of Shakespeare's Richard III is lucid, lively and rapid-paced. There's humor and horror, thrilling swordplay, and vivid performances. Kevin Theis gives a mesmerizing, nuanced performance in the challenging title role — the hunchback who would be king.
Related Blogs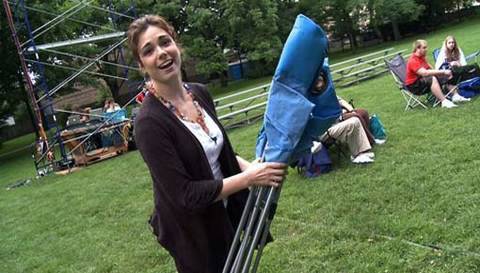 This Sunday, August 7th is Family Day brought to you by The Oak Park Festival Theatre.
Oak Park's only professional theatre and the Midwest's oldest theatre performing the classics outdoors, Oak Park Festival Theatre (OPFT) is proudly in its 37th year of theatrical excellence, providing Chicagoland with the greatest classical plays ever written, OPFT specializes in the works of William Shakespeare as they were meant to be staged — as thrilling, living, popular theater. Perhaps the theater is best known for are the outdoor summer performances, which complement the lush imagery and gorgeous poetry of the Bard's English language presented in the lovely and pastoral Austin Gardens. OPFT has presented all of Shakespeare's seminal works, including The Tempest, MacBeth, Twelfth Night and Hamlet. Recently, the Theatre has expanded its offerings to include other challenging classics, including Of Mice and Men, Arms and the Man and Cyrano de Bergerac – as well a year-round schedule, with Fall and Spring performances in the Studio Theatre at the Madison Street Theatre.
The 2010-11 Season at Oak Park Festival Theatre is our most ambitious year yet! This summer, we present The History of King Henry the Fourth, and Henry V in Austin Gardens. Spend an evening with Shakespeare under the stars!
Upcoming Shows
The History of King Henry IV
June 9-July 9, 2011
Henry V
July 14-August 20, 2011
OakParkFestival.com
708-445-4440