Chicago's Home of Chicken and Waffles
Home

/

Dining

/

Chicago's Home of Chicken and Waffles
Related News Articles
I say, "Chicken & Waffles!" You say, "What?!" That's the usual response I get when I mention what is one of the more unusual food pairings to come along in recent years. Viewed by some merely as a passing food fad, the combination of crispy fried chicken alongside a sweet, syrupy waffle, has taken the comfort-food world by storm and is a phenomenon that's obviously here to stay.
OK, it looks like for real this time. The long-awaited and oft-delayed chicken and waffles restaurant on Madison Street in Oak Park looks like it should open by the end of this month.
Related Blogs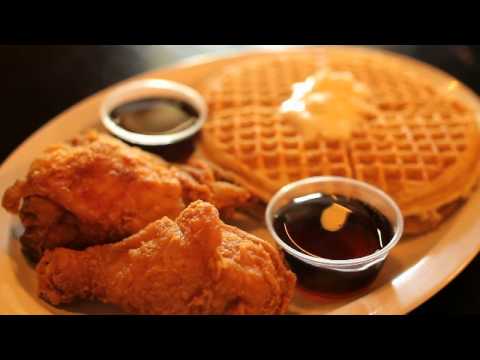 The most recent installment of the video series, "You Really Should Eat This," produced by the Village of Oak Park's Joe Kreml and Patrick Rollins.
Liver is tasty, liver is good for you (high in iron), and if you really like chicken liver, Chicago's Home of Chicken and Waffles is a good place to go for it. The chicken livers there are also a huge value.
On Saturday Morning Around 9:00 am Governor Quinn stopped in to dine at Chicago's Home Of Chicken & Waffles Oak Park Location. As he sat down to place his order his security sat on the opposite side of the room just across from his booth. I stopped to ask him what made him stop in to dine with us.